Together, we can work to get life back on track without breaking the bank.
We'll get your check cashed and quickly have you on your way
Avoid overdraft fees and credit card debt with prepaid cards.
Applying online is quick & easy!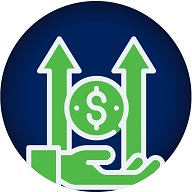 Installment
Loans
Get EZ Money With Payday Loans and More near Omaha!
FAST, FRIENDLY SERVICE.
In the event you have a substantial or unexpected cost, your payday is still too far away, or on the off chance you require quick cash to see you through a short period, EZ Money can help Omaha residents with just a short trip to Council Bluffs!
We offer quick-and-easy financial services, so you don't have a large stack of paperwork to fill out or sit by waiting days for your application to be approved. At EZ Money, cash advance services like payday loans are easy and hassle-free!
HELPING OMAHA GET CASH FAST
Are you in a pinch and needing some quick financial relief? Our Council Bluffs locations offer easy cash advance services including payday loans to Omaha residents quickly and affordably. Our short-term cash loans are easy to qualify for, getting you the cash you need quickly. Plus, our online application process takes only minutes to complete! 
WE MAKE LIFE SIMPLE WITH LOANS
Once you have filled out your online application, our team will quickly process your information before contacting you with next steps. 
WE OFFER A VARIETY OF FINANCIAL SOLUTIONS:
CHECK CASHING TROUBLE?
Sometimes cashing a physical check can be a hassle, but not with EZ Money! For a minimal fee and with the proper identification provided, we can get your check cashed quickly with no hidden charges or holding periods.
HAVE ANY GIFT CARDS YOU DON'T WANT?
Do you have any unused or unwanted gift cards laying around the house? We have good news for you: at EZ Money, we trade your old gift cards for cash! Just stop by any EZ Money location and we will quickly assess your gift cards and offer a dollar amount to get them off your hands.
NEED HELP WITH A MONEY TRANSFER?
Do you need to send money to someone far away? Take advantage of our partnership with Western Union to send money transfers across the globe. You can even track your Western Union money transfers online after the transfer is complete!
OTHER FINANCIAL SERVICES WE PROVIDE:
PREPAID CARDS
If you're not a fan of credit cards, prepaid cards are the perfect solution! Our customers that use prepaid cards benefit from the safety and convenience and get paid 1-3 days earlier on direct deposits! They're also perfect for teens and children who need quick access to field trip money, allowances, and more—just upload funds onto the card and send them on their way!
PREPAID PHONE AND PLANS FROM U.S. CELLULAR
EZ Money is pleased to now offer prepaid phones and plans from U.S. Cellular! These affordable prepaid phone plans feature unlimited talk, text, and data with phones from the brands you already know, like Samsung, LG, and Motorola, with the reliable coverage you expect. You'll never have to worry about surprise hidden fees or overages with a U.S. Cellular prepaid phone from EZ Money! Come in to one of our locations to discover more.
BILL PAY
We know that paying bills is no fun, and it's even less fun when you miss a deadline and get a late fee. With EZ Money, your bill pay can be automated so that you don't ever have to worry about scheduling payments or overage charges again! 
BITCOIN TRANSACTIONS
Bitcoin, cryptocurrency, and other forms of digital currency are all very popular topics, but they can be complicated if you're interested in investing. The team at EZ Money can break it down and make it easy for you, helping you navigate through the entire Bitcoin transaction and providing education and advice for better understanding along the way.